Friday, January 30, 2009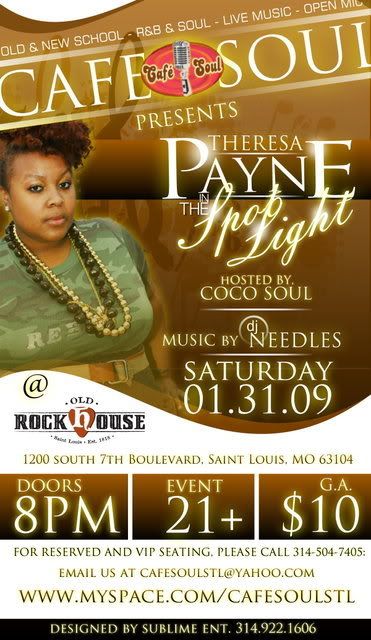 Congrats to the ladies of CAFE SOUL for not missing a beat and moving over to the OLD ROCK HOUSE (we told you so!). Make sure to come support and enjoy the very best live soul music that STL has to offer. See you there!
Before you get your super bowl on get your SOUL on.
Posted by

SYGU [Creative]
at 1:41 PM
No comments:

Friday, January 16, 2009
www.bfreepaparazzi.com presents the B.I.G Movie Night.
AMC West Olive 16 (12657 Olive Blvd. 63141) showtime is 8:15pm
Get your tickets at www.bfreepaparazzi.com
Rob Kirk Of Precision & Xclusive Ent.
Black Power @ Lure Nightclub 1204 Washingon
Sunday Jan 18th, 2008
Posted by

SYGU [Creative]
at 10:56 AM
No comments: